Sir Edward Trenton Richards was born in Berbice, Guyana in 1908. He was trained as a teacher at the age of 21 and moved to Bermuda to join his sister Pearl. At The Berkeley Institute he taught Mathematics, Latin and Games and he was an associate editor at The Bermuda Recorder, where he often spoke up about the system of segregation in the country at the time. ET, as he was affectionately known, became a citizen in 1937 and married Madree Williams in 1940, raising two girls and a boy. In 1943 he traveled to Britain despite World War II and was determined to get his law degree. He was called to the UK bar in 1946 and to the Bermuda Bar in 1947, becoming the fourth black lawyer to practice in Bermuda. The following year he was elected to Parliament, where he served Warwick parish for the next two decades. In 1970 he was knighted by the Queen, becoming the first black Bermudian to achieve knighthood. The following year he became the first black Government leader, and with the Constitutional Amendment Act of 1973, became the first Premier of Bermuda. ET retired from politics at the end of 1975 and retired from practicing law in 1986, at the age of 78. He died in 1991 at the age of 83 and was made a Bermuda National Hero in 2015.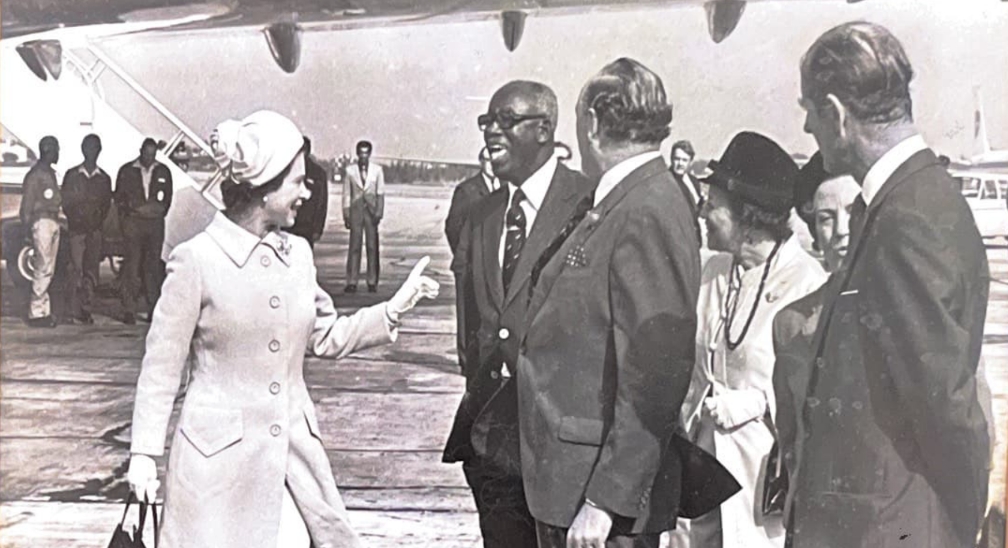 Sir ET Richards was survived by his wife Madree Richards and their three children, who continued the family history of trailblazers. Their eldest child, Judge Patricia Dangor, became the first judge of Afro Caribbean heritage to be appointed to the Circuit Bench of England and Wales and the first woman to sit on the Bermuda Court of Appeals. Their youngest child, Dr. Angela Barry is a literary scholar, teacher and author. Their middle child, the Hon. E. T. (Bob) Richards J.P. M.P., worked in banking in Canada and Bermuda, was a General Manager at the Bermuda Monetary Authority, and was an Investment Manager at Shell Trust Bermuda before starting Bermuda Asset Management, Ltd. (BAM) in 1987. BAM was the first independent investment management company in Bermuda and primarily managed pension funds and private client assets using a global equities approach. In 1995, BAM became affiliated with INVESCO and Bob Richards was appointed General Manager of INVESCO Global Asset Management Ltd. and a Partner in the ultimate parent of INVESCO in London. In 1997 Bob Richards was appointed to the Bermuda Senate. He served as Government Leader in the Senate and Minister of Telecommunications. During his tenure he negotiated the de-monopolization of the telecommunications industry on the Island, a first for any Island economy. Bermuda's overseas telephone rates have fallen over 90% since de-monopolization.
In 1999, INVESCO left Bermuda and BAM reverted to being a family business. He served as Deputy Chairman of Cellular One Bermuda and President of Bermuda Information Technology Services Ltd. Bob has also served on many public sector boards including the Bermuda Hospitals Board, the Bermuda Monetary Authority, the Public Funds Investment Committee, the Bermuda Association of Securities Dealers, and the Economic Council. Mr. Richards is also a Fellow of the Institute of Canadian Bankers. Bob was reappointed to the Senate in 2004 and in 2007 was elected a Member of Parliament and served as Shadow Minister of Finance until the One Bermuda Alliance was elected as the Government of Bermuda in December, 2012. In 2012 he became Minister of Finance and was appointed Deputy Premier from 2014-2017. He recently authored the book "Bermuda, Back from the Brink" (2017) and Triangle of Treason (2020) and sits on the Investment Committee of the UK P&I Club, the UK P&I Club Bermuda and the Osisko Bermuda Boards.
Mrs. Pauline Richards currently serves as an Independent Director for several publicly listed companies. Her extensive financial background and exceptional leadership experience provide these Boards with financial accounting and management expertise.
Mrs. Richards has served as a Director of the BAM Board of Directors since 1987, Cendant Corporation from March 2003 to August 2006, Wyndham Worldwide Corporation since July 2006, Apollo Global Management, LLC since March 2011, and the Hamilton Insurance Group, Ltd. since December 2013. Her service as Director and member of the audit committee of Wyndham Worldwide Corporation and Apollo Global Management brings valuable experience on financial reporting matters that are critical to the Board's oversight role. From July 2008 to December 2019, Mrs. Richards served as Chief Operating Officer of Trebuchet Group Holdings Limited (formerly Armour Group Holdings Limited), an investment management company. From November 2003 to July 2008, Mrs. Richards served as Director of Development at the Saltus Grammar School, the largest private school in Bermuda. From January 2001 to March 2003, Mrs. Richards served as Chief Financial Officer of Lombard Odier Darier Hentsch (Bermuda) Limited in Bermuda, a trust company business. From January 1999 to December 2000, she was Treasurer of Gulfstream Financial Limited, a stock brokerage company.
In 2020 the Richards family felt that the time was right for the next generation to leverage the experience they had to reposition the company for future success. When the country embarked on this journey Kevin Richards personally provided concierge services for all fintech executives who visited the island. As Business Development Manager for Economic Diversification and Technology at the Bermuda Business Development Agency (BBDA), Kevin onboarded about 70% of all new business attracted to the island during that period. Developing the Bermuda strategy alongside the Government, the BMA and the leading minds in the local and international private sector, brought accessibility and insight into where this industry was heading and the future global adoption that would come as a result of this transformational change. Now Managing Director of BAM, Kevin has been able to leverage participation in regular meetings with the Premier of Bermuda, the Cabinet Office and the Department of Economic Diversification Fintech Business Unit, to drive the strategy that the Government began putting in place in 2018. While the company's recent focus and development has been led by Kevin Richards, the guidance of existing directors has ensured that BAM continues to apply the highest hurdle rates and onboarding and due diligence before engaging with clients in this burgeoning industry class.